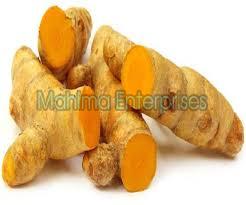 All of us is quite familiar with the turmeric powder. It is considered to be one of the essential ingredients in every Indian's kitchen. It has always been proven best for digestion and has anti-inflammatory as well as antioxidant properties. The anti-inflammatory agents present in it are basically used to relieve major symptoms that are being involved with rheumatoid arthritis.

However, how many of us are being aware of raw turmeric finger? However, most of us are not even aware of the fact that how this finger-sized edible rhizome of Curcuma longa plant is being brought in use. Being versatile in nature, it is being used to impart yellow or orange color as well as mild flavor to a wide range of dishes that comprises of rice, dals, smoothies, curries, soups, omelets and lots more. Below mention are some of the major reasons why raw turmeric finger is essentially beneficial:

• An adequate amount of curcumin: As compared to the powdered form, raw turmeric is known to have a high percentage of curcumin.

• Possess great aroma: As compared to the powdered form, raw turmeric is considered to possess great aroma. This is only because of the presence of the oils in it. This is enough to add a distinct taste to any dishes.

• Economical: As compared to the powdered form, raw turmeric is much more economical

• Add health benefits to smoothies: A pinch of peeled raw turmeric finger is enough to add the taste as well as enhance the health benefits of any smoothies. At the same time, it can also add a tinge of yellow or orangish color to the drink. In order to make a turmeric-enriched smoothie, just add a tablespoon of peeled and grated raw turmeric.

• Perfect for making Golden Indian milk: In India golden milk is very common as one of the healing remedies. It is being used in every household in order to get relief either from cold, asthma, or any kind of pain. In order to make this milk, one need to peel as well as chop the turmeric as well as ginger. Add the spices in the milk and let it get boil for 2-3 minutes. Allow it to cool, pour in a cup and if required add honey in order to increase the taste.

• Can be used as a substitute for saffron: For those who require to give color to their dishes with the help of saffron, but, doesn't have it handy, can also use squeezed peeled turmeric root. This will not only give orangish or yellowish color to the dishes but, will also impart a tinge of turmeric flavor.

UP is a leading supplier of raw turmeric finger. These turmeric fingers are being procured from the reliable vendors and are packaged in the most favorable condition. They are perfect enough to provide better color to any dishes as well as are being brought in use in several medicines as well as cosmetics. The prices are kept very reasonable. The Raw turmeric finger suppliers in UP play a vital role in making this wonder spice available across the country.

Thus, to conclude, it is being suggested to use raw turmeric finger rather than the powder turmeric, owing to several health benefits as well as the availability of curcumins and volatile oils in profusion.