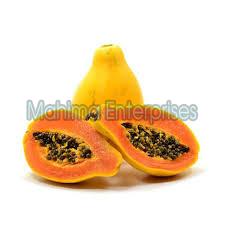 With a deliciously sweet taste, musky undertones and a soft, butter-like consistency, papaya is called the fruit of angels. In the early days, the fruit was considered quite exotic but now they can be found in markets throughout the year. Yellow papayas are pear-shaped or spherical fruits with rich orange-yellow or pink colored flesh. The inner cavity of the fruit is black containing round seeds encased in a gelatinous-like substance. Papaya's seeds are edible, although their peppery flavor is somewhat bitter. The fruit and the other parts of the papaya tree contain an enzyme called papain that helps in digesting proteins. Papain is especially concentrated in the fruit when it is unripe and is extracted to make digestive enzyme dietary supplements and utilized as an ingredient in some chewing gums.

Amazing benefits of yellow papaya: -

• Helps in lowering cholesterol: -Yellow papaya is the good source of fiber, vitamin C and antioxidants which are beneficial for preventing cholesterol build up in our arteries. As we know too much cholesterol build-up can lead to several heart diseases including heart attack and hypertension, including yellow papaya in the diet can help in lowering cholesterol level in the blood.

• Helps in weight loss: -Yellow papayas are low in calories and high in fiber content. So, those who are looking to lose weight must include papaya in their diet. The fiber content in the fruit leaves you feeling full and helps in clearing your bowel movement making your weight loss regime easier.

• Helps in boosting the immunity: -Our immunity system acts as a protective shield against various infections that can make us sick. A single yellow papaya contains more than 200% of our daily requirement of Vitamin C, making it excellent for our immunity.

• Good for diabetic patients: -As it has low-sugar content even though it is sweet to taste, yellow papaya is an excellent food option for diabetic patients. People who do not have diabetes can eat papaya to prevent diabetes.

• Great for the eye health: -Yellow papaya is a good source of Vitamin A which helps in protecting your vision from degenerating. As nobody wants to lose their ability to see due to eye diseases like age-related macular degeneration, eating yellow papayas can ensure healthy eyesight.

• Helps in preventing arthritis: - Yellow papaya is loaded with vitamin C and known to have anti-inflammatory properties. That is why eating papaya is extremely good for our bones and can prevent various forms of arthritis.

• Helps in improving digestion: -Avoiding eating foods that are bad for our digestive system is just next to impossible. Eating yellow papaya on a daily basis can make up for such occasional mistakes. The fruit has a digestive enzyme (papain) along with fiber that helps in improving our digestive health.

• Helps ease menstrual pain: -As papain present in papaya helps in regulating and easing the flow during menstrual periods, eating papaya during mensuration is beneficial for women who are experiencing menstrual pain.

• Helps in preventing signs of aging: -As yellow papaya is the excellent source of vitamin C, vitamin E and antioxidants like beta-carotene, it helps in preventing our skin from free radical damage keeping wrinkles and other signs of aging at bay.

• Helps in preventing cancer: -As yellow papaya is a rich source of antioxidants, phytonutrients, and flavonoids that prevent our cells from undergoing free radical damage. Eating papaya on a daily basis can reduce the risk of colon and prostate cancer.

• Helps in reducing stress: -Papaya is the wonder fruit that is rich in several nutrients like Vitamin C which can keep us free from stress.

With all the above amazing benefits, no wonder yellow papaya can be an easy addition to a healthy and balanced diet. To purchase fresh yellow papaya you need to look out for a reliable yellow papaya exporter and supplier in the market. You can also rely on yellow papaya exporters and suppliers in Uttar Pradesh, instrumental in supplying extremely good quality fruit in several markets in the country.