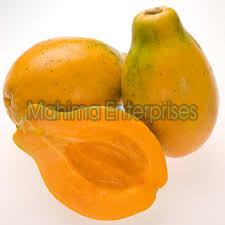 Papaya is one of the healthiest fruits on the planet known for its delicious, juicy taste. Native to the Americas, papaya is now grown all over the world and is available in the market all over the year. Endeared for its buttery soft flesh and musky taste, papaya was reportedly called 'the fruit of the angels' by Christopher Columbus. Whether you use it in a fruit salad or make a dessert out of it, ripe, juicy papayas always taste delicious. Enriched with the goodness of nature, the refreshing and luscious taste of this exotic fruit is hard to resist.

Papayas are oblong-shaped fruits with green, orange or red smooth outer skin. The inner cavity of these fruits has small black seeds that are edible but have a bitter flavor. Papayas are not only loved for their delicious taste but they are also a good source of many important antioxidants, carotenes, vitamin C, B, folate, pantothenic acid; and minerals like potassium, copper, and magnesium. The following are some of the major health benefits of adding papaya to your daily diet.

• It boosts digestion and prevents constipation
• It may prevent a wide range of cancers
• It helps maintain blood sugar level and cholesterol
• It helps in weight loss and improves metabolism
• It boosts immunity and overall well-being
• It protects against arthritis.
• It helps improve lactation in new mother
• It may ward off cardiovascular diseases
• It helps ease menstrual pain
• It promotes glowing skin and removes dark spots

Offering a broad range of 100% organically grown papayas at a reasonable rate, the reputed natural papaya suppliers in UP have ensured a strong dominance in the fruit and vegetable market nationwide. With a firm commitment to quality, the suppliers are engaged in offering a wide range of organic papayas that are demanded by customers around the country for their sweet taste, musky flavor, dark spot free vibrant orange color, high nutritional value, and longer shelf life. The following are some of the important factors that the natural papaya suppliers in UP always keep in mind to maintain their reputation in the market.

They source their offered range of green papaya from reputed farmers who grow the fruits under advance agricultural practices and without using harmful pesticides and chemicals.

• To meet the varied demands of their wide patron base, they offer these products in many customized high-grade, moisture-proof packaging solutions to retain the quality and freshness.

• They provide natural papayas at the most competitive market price range.

• Considered amongst the trusted natural papaya suppliers in the country, they ensure the on-time and safe delivery of the orders.

• With the help of a wide distribution network, they can easily cater to the bulk and urgent orders of papayas in diverse specifications across the globe.

• Every batch of green papaya is examined by agro experts on some strict quality grounds before forwarding the shipments to the marketplace.

Maintaining crystal pure transparency in all their transactions, the natural papaya suppliers direct all their activities to cater to the expectations of customers nationwide.